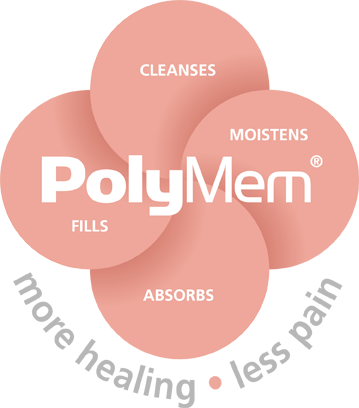 Cleanses
PolyMem contains a mild, nonionic, nontoxic, tissue-friendly cleansing agent, activated by moisture that is gradually released into the wound bed. Built-in cleansing capabilities reduce the need to cleanse wounds during dressing changes, so you can avoid disrupting the growth of healthy tissue, as the wound heals.
Fills
PolyMem gently expands to fill and conform to the wound.
Absorbs
PolyMem wicks away up to ten times its weight in exudate. The absorption capability activates only if the material detects exudate. PolyMem adjusts to the wound type to provide the dressing function needed.
Moistens
PolyMem keeps the wound bed moist and soothes traumatized tissues, reducing wound pain and providing comfort at the wound site. The moisturizer also keeps the dressing pad from adhering to the wound so it removes with virtually no pain, improving the caregiver-patient interaction and overall care experience.