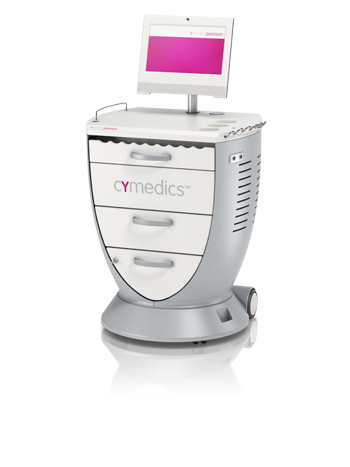 cymedics is one of the world's leading brands in the high-tech medical and aesthetic field.
25 years of experience and specialising in the development of devices for innovative diagnostics and aesthetics as well as medical treatments, we don't simply focus on cosmetics or even invasive methods – instead we stimulate the body's own regeneration process using pioneering biocybernetic procedures supported by state-of-the-art computer technology.
For us,  'made in Germany' already begins at the development phase. At this stage, we already focus on uncompromising quality, starting with top-quality materials guaranteeing a maximum life-cycle, ergonomically functional designs and intuitive software through to attaining the highest international hygiene standards.
We consistently promote training in non-invasive treatment methods in medicine and aesthetics through a comprehensive programme of user seminars. Our customer service does not end with audiovisual training or scientific seminars. Certification according to ISO 13485:2012 + AC:2012 guarantees that you receive the high standard of quality that you only find with the world's best and most reliable companies.
We know that our success is solely based on the fact that you will be completely satisfied with our products and service – now and in the future – and it needs to stay this way.